Make Your Duct Cleaning More Effective and Last Longer
When we talk about duct cleaning, we always recommend that it be done a minimum of 3-5 years. Certain things can mean you might need it sooner, especially in older HVAC systems, but is there anything you can do to make your duct cleaning last longer? Of course there is. If you want to get the most out of a duct cleaning, some simple checks can make it last longer and be even more effective.

1. Do Your Regular Home Cleaning
The dust in your ducts isn't born from nothing. It comes from inside and outside your house. While good filters, common on pretty much all modern HVAC systems, keep the dust out, air coming out of the vents still blows up dust already in your house. Your home needs regular cleaning if you want to get the best results. This includes general and deep cleaning. Clean under appliances that might be covering ducts, like your fridge – in fact, it's best if you don't put cabinets or appliances over ducts in the first place. Regular carpet cleaning removes a fair amount of the dust in your home as well.
2. Cover Vents During Construction
Some of our customers were surprised just how much construction debris we found in their ducts. This isn't super common.  Most construction companies cover air ducts and clean them afterwards, but sometimes mistakes happen. If the crew doesn't seal the vents, dust, plaster, concrete, and sometimes even their tools can end up inside your ducts. These will play havoc with your HVAC and screw up your filters. If you have any construction done, make sure the workers cover the vents to prevent this.
3. Change Your Filters Regularly
Speaking of filters, those only last for so long. Every filter has a maximum amount of dust it can hold before it plugs up. When that happens, it impedes the air flow through the vents and will start blowing the excess dust through into your home. When you install your filters, take note of how long they are meant to last. It's usually 3 months. Write down the date the filter needs to be changed on both it and your home calendar so you know when it needs to be done.
A New Service from Easy Breezy Ducts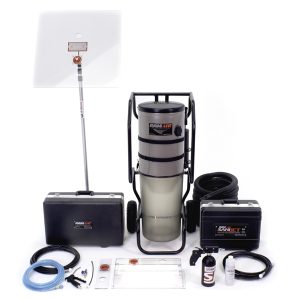 We know how hard it is to remember everything, particularly the filter changes. It's the most common thing our customers say they've forgotten to do. That's why we have a new service available to our customers. When you get a full service cleaning, you can sign up for our filter package. We will provide you with a year's worth of filters and set you up for automated reminders to replace them via text messages. That way, you'll never have to worry about forgetting!
This service is only available to those who've had a full service cleaning from us. This is so that we can guarantee that the duct cleaning has been done to our standard, making sure you get the best results. The full service includes furnace cleaning – note, this is not the same as furnace maintenance, which must still be done by a HVAC mechanic – and can also include dryer vent cleaning on request. You get the maximum benefit from our full service!
Need Some Duct Cleaning Done?
If it's been a while since you've had it done, or can't remember the last time it was, then you should probably have your ducts cleaned out. You'll notice the benefit of cleaner air right away, especially if you have allergy problems. Get a hold of us and schedule a cleaning today!