The Difference Between Easy Breezy and Other Duct Cleaning Companies

So, hopefully by now we've been able to persuade you that you should get your ducts cleaned, at least once every 3 years or so. But why should you go with us? What makes Easy Breezy stand out over our competitors? We can think of at least 5 things that put us on top for Cache Valley and the surrounding areas, like Brigham City or the Bear Lake area. Let's take a look at them.
1. We Guarantee Our Work
Our cleaning system is really good at what it does and so are our cleaning staff. We are confident in the job we do. So confident, in fact, that we guarantee our work. If you see dust coming out of your ducts in less than a week after we clean it (maybe more, depending on how well set-up your filters and duct sealing are), we'll come back out and do it again for free. We insist on a job well done and will make sure that it is.
2. Our Brushless System
A lot of duct cleaners use brushes to clean out your ducts. The problem with brushes is that they're harsh. Over time, repeated cleaning with brushes can damage the walls of your ducts, causing breaches that will let in more dirt and even pests (like mice). Some ducts, like flex ducts, can't even handle one pass with a brush system – it simply shreds them.
We don't do that. We have a specialty vacuum system that uses your air duct's own air flow to draw out the dust and other objects in your vents. Even very heavy objects like small pieces of concrete will get sucked up by our system. This has let us work for people who other duct cleaners won't touch because they know they'll damage the ducts in the process of cleaning them.
3. We Let You See The Process and Results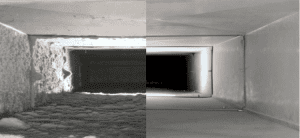 We like to show our customers what goes on in the process. You don't have to watch, but it can be important. We take before and after pictures so you can see the results, but also so you can see what is going on in your ducts. You can see exactly what is in there, which can help you solve any bigger issues. If there are mice or other pests in your ducts, we help you find how they got in there so you can stop it. If your children are dropping a lot of toys in the vents, our system has a transparent section so you can see what is being sucked up before it goes into the vacuum chamber. You'll know what's in there and if anything is worth salvaging from the mess.
4. Sanitizing System
Our vacuum system is pretty efficient and we like the job it does, but it's still not enough for us. We go a step further and can also use our sanitizing system to disinfect your ductworks. We use an EPA registered cleaning solution to kill germs and mildew and eat away at the various substances that cause unpleasant odors. Our customers report that smells like cigarette smoke, dead animal smells, and that musty odor of old homes stops after we clean them. It's just an extra step to do the best job possible that makes us stand out.
5. Experienced Management
When most people say "experienced management," they usually mean at the top level of the company. When we say it, what we mean is that we hire people for their experience in project and time management. One of our most important values for our employees is being able to manage and schedule projects. This is why we are able to get to our customers faster than our competition; our employees know how to manage time and work.
Breathe Easy With Easy Breezy
Why should you pick us? After all these reasons why we stand out from our competition, why would you pick anyone else? We use systems that won't damage your vents, get a better clean, let you see the whole process, and our employees are hired for their experience in time and project management. When it comes to duct cleaning in Cache Valley, you simply won't find anyone better than Easy Breezy Ducts. Not sure if you need a duct cleaning, call us for a free inspection. We'll send a camera through your ducts so you can see for yourself what's in there. If you don't like what you see, we'll schedule you in for the best duct cleaning you'll find anywhere!